17 June 2019
Rekindle Q+A

Based out of Toronto ON, Rekindle creates goods with meaning, simplicity, longevity and beauty. Rekindle is about igniting meaningful connections between people, by making memories through shared experiences and passing down pieces to special people over time.
Who are you? My Name is Devin Schaffner, and I am a designer!
 How did you begin your practice? I was introduced to Industrial design while practicing interior design in the late 2000s. I went back to school to get my bachelors degree at OCADU and during my time there, I knew one thing for certain that I did not want to work for someone else. Looking for a job was not on my to-do list once I graduated. So I developed my thesis project to be around my values and Rekindle was born. It was such a great experience developing a brand in a safe environment with so many great instructors. Working through so many aspects of my brand with so many people that I otherwise wouldn't of had an opportunity to work with.
What are some of your sources of inspiration? I never know when or where inspiration will hit but I am definitely inspired by a quality way of life. Whether it's doing daily tasks or getting together with the important people in my life, or even enjoying some quiet time alone, all of that can be heightened through high quality design. This gets me going. I love when items, objects, and architecture work in a way that make any experience better. When an item functions well and you love using it, or when a chair hits your back in the perfect position, or when the right amount of light fills a room, these things excite me.
Tell us a bit about your process? The process can be quite a long one. After the initial idea, a rough and primitive sketch is always put down onto paper. From there I imagine how, where, when, who and WHY it is being used. These questions solidify if this concept is truly something that the world would benefit from. I always make physical prototypes in my shop. I need to build it to understand how it will come together, and function. Feedback from friends, family, shop mates, and our Head of Sales, Jethro, is highly valuable. Getting a different perspective on what I have conjured in my mind can sometimes be a humbling experience. This interaction ultimately makes a product exponentially better.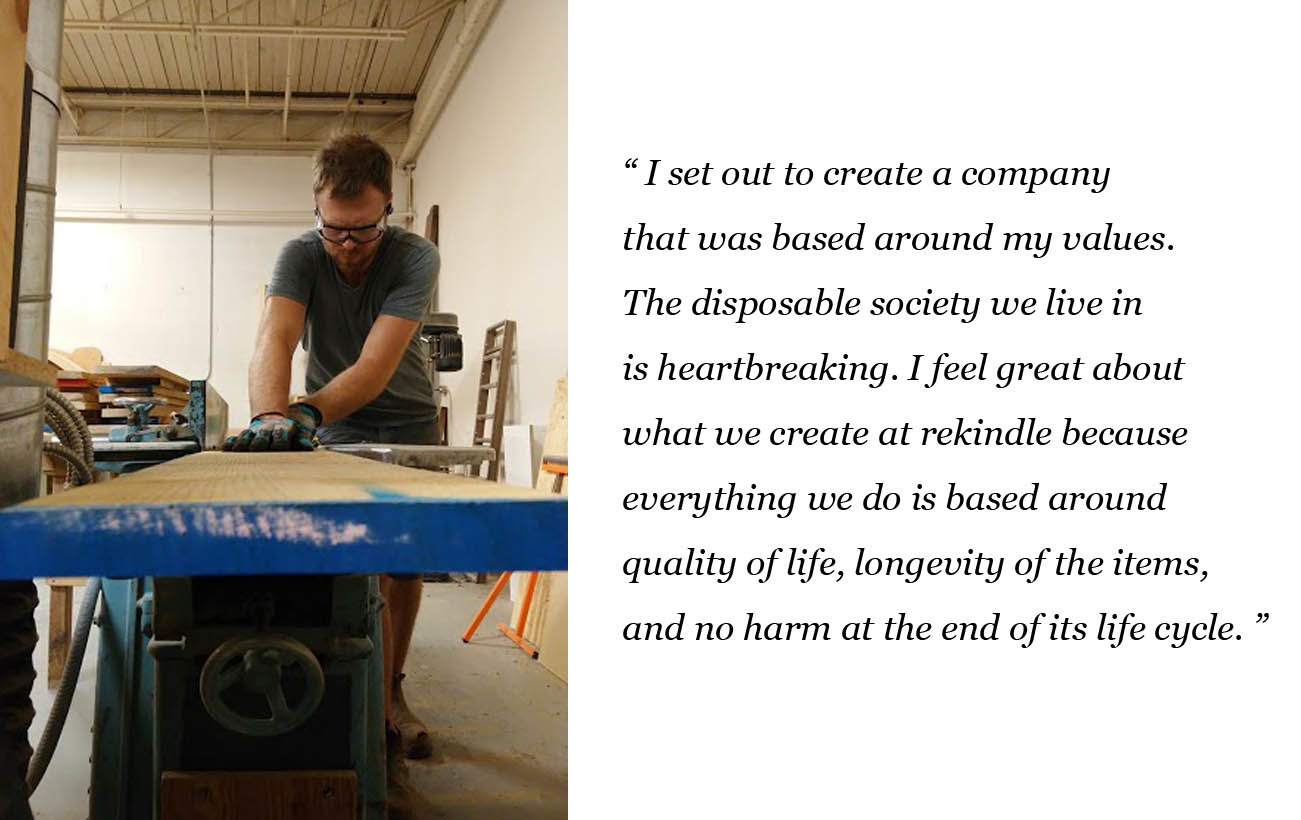 When developing new pieces, do you have a clear idea for each of the pieces that you want to create, or do they tend to evolve as you go?During the initial concept I always "THINK" it is a clear idea and ready to produce the next day. This is rarely the case. The pieces I create always evolve over time. When it gets to the point that I feel its meets my criteria for a quality product, then we start to produce. Even then, we still tweak to make it better over time.
In what ways has your practice evolved over time? We have utilized newer technologies into our production, such as CNC and laser. Rekindle has also evolved from being a solo show to a multi person production. We all look at rekindle from different perspectives and this allows us to create a better more well thought out idea.
What's the most challenging part of your process? Where do you find the most ease?One of the most challenging aspects of our process is filtering through all of our rough ideas and deciding on which pieces we move forward with now and which we wait on. The thing that comes to us with ease is knowing which product categories we want to stay away from. The chances you'll see a Rekindle cell phone case is very low. We know what our ethos are and truly believe in creating items based on what we believe in. High Quality goods that are meant to last, Materials that age gracefully, and supporting experiences that bring people together. If any design ideas waver from these principles we know it does not support the Rekindle vision.
 Can you share a bit about your materials and techniques? We have focused on creating items from materials that age gracefully. Based around longevity our material selections are natural materials. Wood, ceramic, metal, felt, leather and hopefully in the future we will expand into stone, glass, and natural fibre textiles.
What is the most rewarding part of your work? When I started rekindle in 2014 I set out to create a company that was based around my values. The disposable society we live in is heartbreaking. I feel great about what we create at rekindle because everything we do is based around quality of life, longevity of the items, and no harm at the end of its life cycle. Our design approach will allow for our items to be passed down through generations and since they will live on with other people I can feel good that I am not creating more short lived products that will not last the test of time.
Tell us about your studio space: We have just made a transition to Chatham Kent, ON. My hometown! We have two studios we work from, both operating different stages of our production. We share an amazing wood shop with a stellar group of cabinet makers as well as a final packaging, shipping and design studio off site.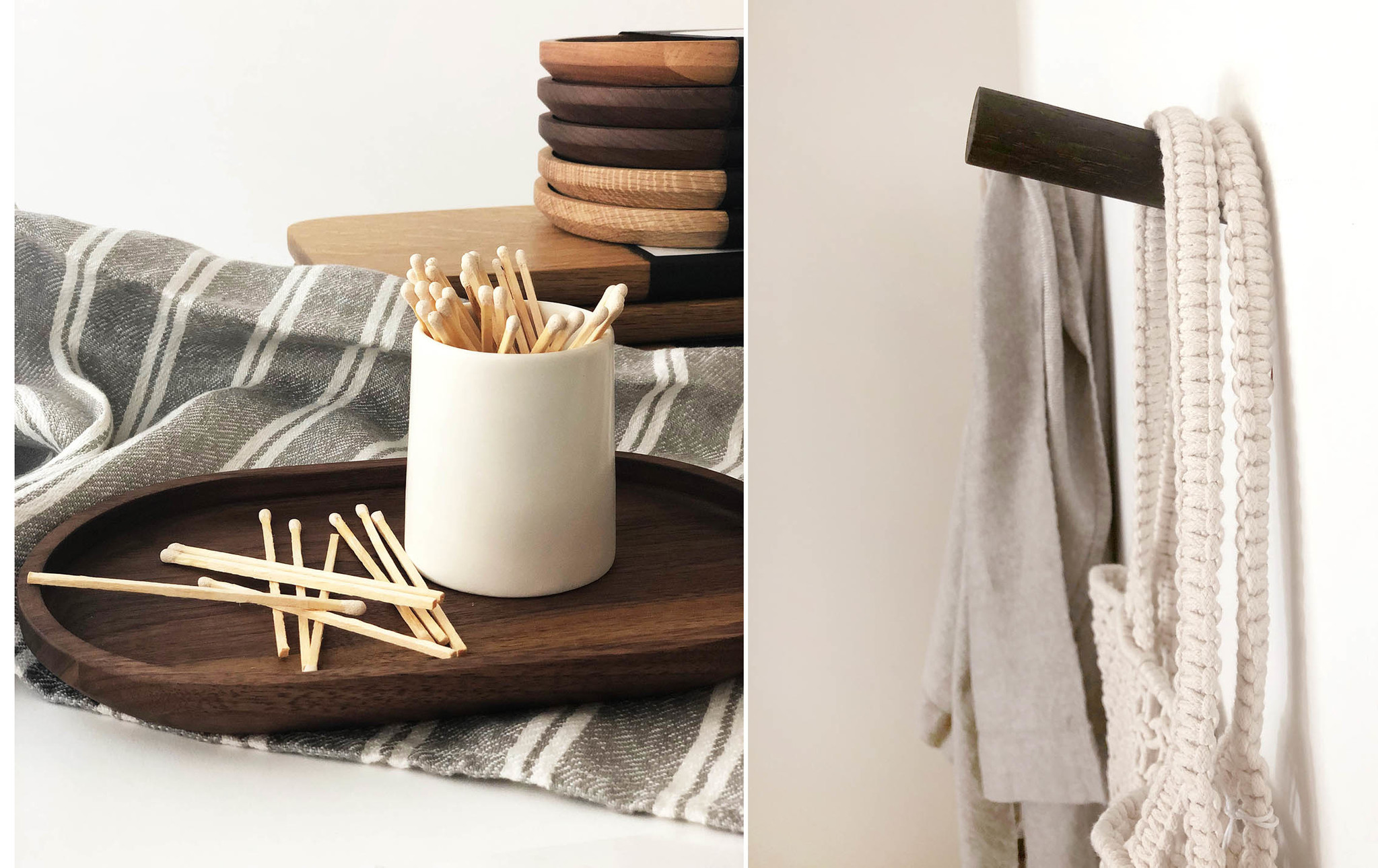 Your top five workspace musts:   Coffee.  Open conversation.  Music.  Markers/pens/pencil/ and somewhere to draw and write.  Positive attitude!
Tell us about a typical day in the studio: I don't know what a typical day is because everyday is exciting and different. Usually there is a lot of discussion around design ideas over a lot of coffee. Jethro and I love drinking coffee and eating pastries while talking design, even if it's over Skype, since he's in Toronto. Production of our goods is always an ongoing process.
What has your practice taught you? Perseverance. There will be non stop challenges facing you everyday, even when your work is your dream job.
What's the best piece of advice you've ever received?  Love what you do and never give up on your dreams.