29 April 2019
Dahlhaus Ceramics

Who are you?
My name is Heather Dahl and I started Dahlhaus Studio in 2007 as a way to bring my painting and ceramic practice under one roof.  It's an ever-evolving studio practice that has a lot to do with making pottery that is beautiful and for daily use!
How did you begin your ceramic practice?
I took my first clay class in 1993 in college after being inspired by some local potters in my hometown.  I fell in love with the material and slowly over the years kept coming back to it.  Eventually I graduated with a BFA in ceramics and painting from Emily Carr in 2001.  Enter in my first child in 2002 and my second in 2004 and as a young mom I was working out of a community center pottery studio where I would come a few times of week for some creative therapy.  I started making work that I wanted to use in my own home but with glaze patterns that were inspired by my paintings and the idea of dahlhaus started taking shape.  In 2006 I found a studio space and in 2007 I applied for a self-employment program to teach me the business side of my studio practice.  The rest is kind of history now- working with large and small retailers, shipping work all over the world.  It's been a wild 12 years!
What are some of your sources of inspiration?
My inspiration has been a combination of abstract paintings meeting mid-century modern designs along with textiles and fabric patterns from that era.  There's a nod to the past with a contemporary feel.  I designed the Speckled Stoneware Dip Collection in 2014 after a broken elbow (bike accident) where I needed to simplify my glazing methods in order to continue working through my injury. The exploration of colour-blocking and simple forms mixed in with a few patterned pieces felt refreshing after my immersion into pattern.
Tell us a bit about your process…
I do a bit of everything in the studio- I wheel-throw, I slip-cast, I hand-build- everything is made by my 2 hands.  Having worked in clay for 25 years I'm constantly finding new ways to keep myself invested and interested in the work I'm making process-wise.  The work I sell to shops is mostly wheel-thrown stoneware and it's carefully glazed with glazes I mix in the studio from scratch.  I'm always on the hunt for new surfaces and new colours to add to the mix so things are ever-evolving.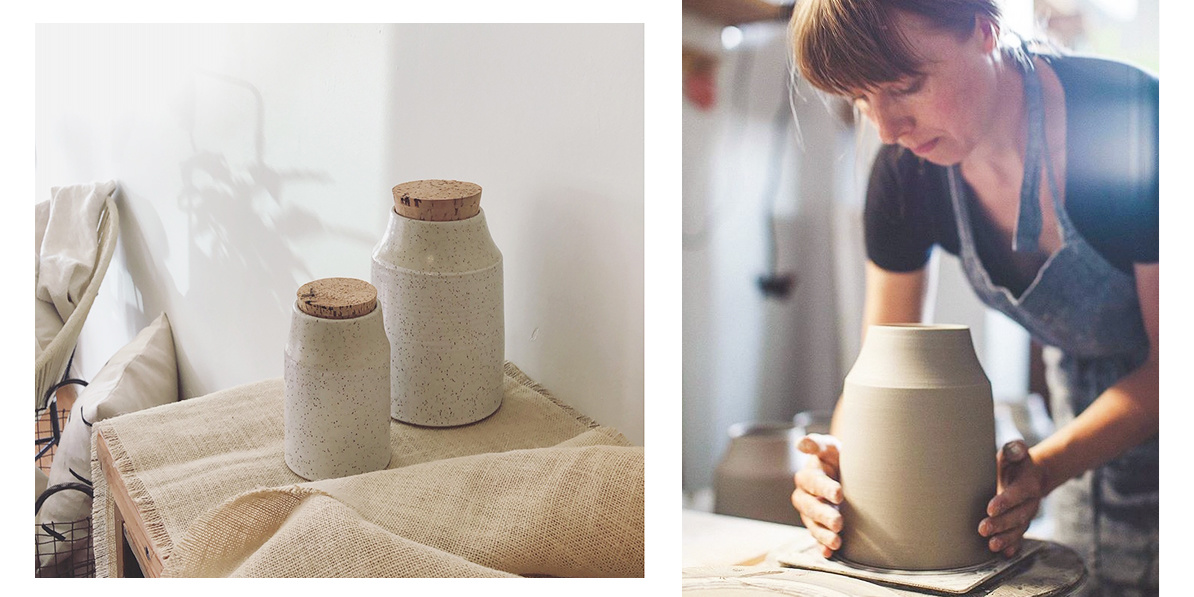 When developing new pieces, do you have a clear idea for each of the pieces that you want to create,
or do they tend to evolve as you go?
My process is a bit of both.  On the wheel, I might have a function in mind- like making a planter with an attached base that water can drip into for healthy plants.  After drawing some designs, I'll throw a few prototypes, tweak a few things as I start making more of them, and then I'll start playing with colours and also scale.  My regular sized planter was a big seller but it wasn't until a year or so after making them that I thought to scale down  and create a smaller version for succulents or cacti.  And then it's been another couple of years before people started asking for bigger ones so I'm working towards scaling much larger- which brings about a whole new set of challenges.
In what ways has your practice evolved over time?
Evolution of a practice can happen in micro and macro ways in the studio over time.  For a while I found it hard not to be reactive to the response of the work that I make, trying to keep up with the demand of making multiples of my popular designs for clients or stores because I was being asked to do so.  At the same time, my mind would be constantly churning with ideas for new work and new ways of working that is more on the pro-active/evolutionary side.  So there's this push and pull with my desire to evolve and the time it takes for new ideas to really become staples within my artistic practice.  Making the same work on repeat could either feel like the work is stagnant, or it could be considered my grounding/landing pad for other work to evolve from.  Part of the beauty of continuing to make work for several years is the ability I have as a maker to refine and hone in on what the work is about.  It's also a great space to be thinking about what I do and why because I've already designed the piece and my muscle memory is doing most of the work so my brain can be processing what the new work will look like.  The frustrating part of being the maker and the designer and the artist is that all those parts are a bit at odds. The maker wants to keep making, the designer wants to design something new and the artist just wants to be free of any constraints financially or brand-wise that hold me to making a particular thing, in other words to just go wild and make work for arts sake rather then the functional or practical restraints that functional pottery has. 
What's the most challenging part of your process? Where do you find the most ease?
Clay is a slow medium and there's no press print button.  Physically I have to be present in the making process with my whole body so if I am tired or I want to go on a trip the physical work has stopped.  Because its a very process based practice, I need to be able to be around for all the processes to make sure that the pieces are drying at the right rate, not cracking or warping because parts are drying quicker.  Committing the work to 2 firings and hoping for the best can sometimes feel like playing the lottery. What are the chances this clay made this particular way with these glazes is going to turn out 100% just the way I had hoped? 
What I find most at ease is the rhythm of working in clay.  There is something very satisfying (albeit sometimes exhausting) about making multiples.  As they add up on your board you can see the work you've created.  When you finish all the steps and put the pieces in the final glaze firing, the work is more or less finished. 
What is the most rewarding part of your work?
I got stopped on the street the other day by someone telling me they use my mug every day and it's the best mug they have in their cupboard.  Well that just makes my day!
Tell us about your studio space:
Well for the past 12 years or so I have had a studio in the Mergatroid Building as part of the Clay Co-op.  There are 7 studios of various sizes, so each artist has their own studio and then we share the use of 3 kilns between us all.  This last year we made a big decision to buy a house in my 'hometown' of Yarrow, in the Fraser Valley.  I have a separate home studio in our back yard so I have my wheel and a kiln at the house and then I commute to the city a couple days a week to glaze and fire the work.  It has changed how I work quite a bit.

Your top five workspace musts?
I slowly built my studio equipment over the years:  a pugmill to recycle my clay, my trusty used wheel, having access to kilns is pretty paramount in clay, and having good ventilation/air/light is also a must. 
Tell us about a typical day in the studio:
I have had a non-typical year since I have 2 studios so I have different looking days in the city then I do in the country.  At home I wake up to see the kids off to the school bus at 7 am and then have coffee, get dressed, answer emails and then either I'll leave by 8-8:30 for the city studio or I'll walk across the yard to the studio to begin working.  I'm either wheelthrowing or finishing work, firing or glazing, making glazes or reclaiming clay, developing new work or planning my next atmospheric firing, packing up work for shipping or dropping work off at my local shops, taking photos of work, or planning a craft show with a colleague.  There are other days I am teaching at Emily Carr or mentoring new ceramic artists.  It's something a little different every day. 
What has your practice taught you?
I have a pretty good understanding about where my strengths and my weaknesses are in my practice.  Knowing those weaknesses either means I need to work hard at getting better at those things, or I should invest in having other people do those things for me so I can focus on what I'm good at.  That delegation of tasks has allowed me to collaborate with some amazing people over the years, whether it's interior designers, or architects, studio assistants, my accountant, my mould-maker, photographers, or my graphic designer.  I really cherish the connections I've made and include shops in with my collaborators as well.  Their ability to style and curate my work along with connecting my work with clients and the customer service they can offer has been invaluable to me.
What's the best piece of advice you've ever received?
Probably one of the best pieces of advice I received was to document the work really well.  Even if the work is in the development phase, it's worth it to take great photos of the evolution of ideas.   Also a seasoned potter told me it would take 20 years to really master ceramics.  So it's taken a whole lot of patience and persistence to be making all these years.