06 April 2018
Artist Feature: Dana Mooney

Studio visit, Q+A and details on upcoming launch of Full Spectrum: a carefully uncareful collection of hand painted pillows by Dana Mooney. Thanks for reading xo
Nineteen Ten Home x Dana Mooney have collaborated to create a collection of hand painted pillows.  The collection, Full Spectrum, is launching May 10th, during a special event at the shop from 5PM-8PM. Dana will also have paintings available for sale.  Join us!
Can you introduce yourself and describe what you do?
Hi! I'm a an artist, with painting being my main focus. I use acrylics and water colours,
and usually some metallic accents to create bright, fresh and dynamic abstract collections.
I also work with various brands on collaborations and product design.
How did you get to where you are now?
I have always painted in my life, but my first career was in Makeup Artistry. I worked in every
area from film and TV, to body painting, to Print Ads and fashion. After that, I studied Interior
Design, which has always been my other obsession, and started to work in that field at a boutique
home decor shop, and decorating for their private clients. It wasn't until then that I started to
show my paintings to the public, selling them at the shop and working with other Interior
Designers to create custom pieces. Eventually, I decided to put all of my drive and creativity
into my true passion- painting. It's been a solid 5 years now of hard work, focus and creative
output in building my own business and I am so happy that I trusted in myself. Looking back
at who I've met, the community I've built in my life, and the projects that I have accomplished
so far only makes me so much more excited to see what's next!
How would you describe your aesthetic?
I hear a lot of feedback from what people see in my artwork. It's been described as very
west coast modern, californian beachy, fresh, pretty, uplifting, calming, and feminine. I think my
aesthetic is all of these things, but what I hope for in the pieces I make is that there is something
for everyone. I have versatility in creating work specifically for a space, pushing it more to the
masculine side or feminine, upping the drama or honing in on the vibe of each individual piece. I
create different collections that compliment each other and bring a variety of styles into a space
that will all work together, so the opportunity is there for my clients as well to grow with me
along the way and build their collections over time, and a personal connection with me as well.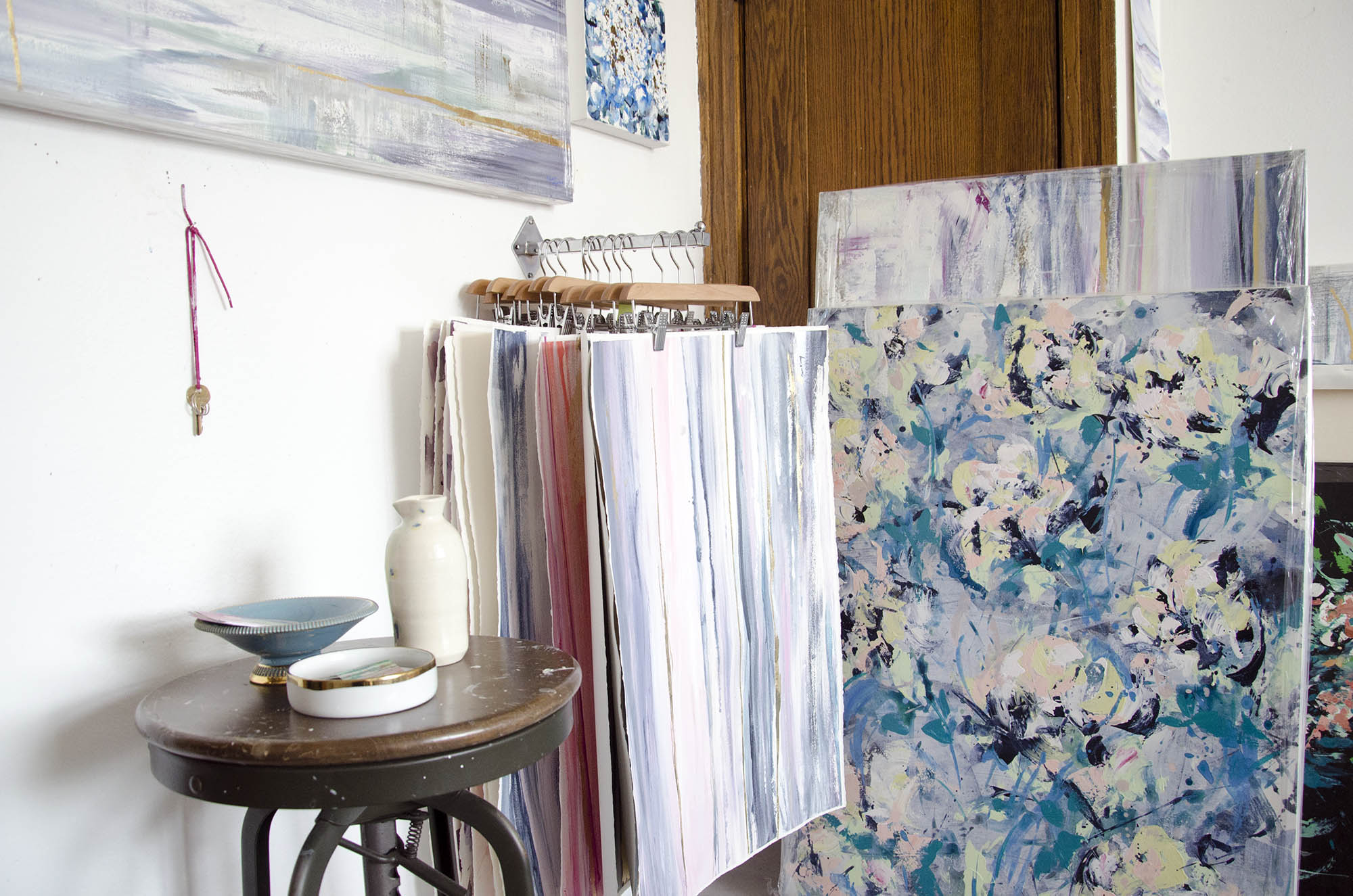 How did you develop your style? Where do you get your inspiration ?
Ah such a hard question. If I had to sum it up, I have to say it all started with just naturally
being aware of interior design trends and watching colour palettes evolve in things like fashion,
home decor and design. My first collection was the Birch Collection. Within that, I expanded
my colour palettes and techniques. Next I wanted to create something totally abstract, with a
focus just on pure compositions and colours. I'm inspired by everything I see around me. I
think I'm just constantly watching and being aware of what catches my eye or sparks an idea.
Although my collections are of something (ie. my Abstract pieces are often based on oceans and
landscapes), they also each have a unique feel.
If you weren't an artist, what would you be?
I would have stayed in the Interior Design field. I really love putting a room together and
decorating spaces.
Was there a particular inspiration behind the colour palette for your latest collection
of painted pillows for Nineteen Ten ?
This year I wanted my pillows to be so fun, exciting and so unique, different than the other
pillows I have seen available around town. I want them to stand out and actually be a piece of
artwork in the room. I chose colours that can fit into different personal styles, so I am hoping
that everyone will find something they like in the collection. When I painted these pillows, I had
just come back from a trip to Mexico City, Puebla and Oaxaca City, so I really wanted to keep
that vacation vibe going, and bring some of it into the homes where my pillows end up living!
The colours are saturated, bold, full of energetic gestural brushstrokes and a just a really happy
colour palette overall. Also, keeping in mind Nineteen Ten's audience, I know that the people
will see these are very style savvy, supportive of small business and entrepreneurs and community
minded. I want these pieces to really connect with them.
Describe your process for creating your Pillow Collection
Actually, it has been a long process! First, I had to think about actually creating the pieces for
like months. I always do that, I will have an idea in my mind and have dreams about it at
night, and just start visualizing the colour palette way ahead of time. Then, I sourced my fabric.
Then, I found a place to have them sewn (thanks to "Local Manufacturing"!) and talked about
the steps involved with creating the pillowcases. They also made me a sample piece and I sourced
zippers and new fabric paints. When it comes to the actual painting, I layed out the cut squares on
my studio floor, and started to create various textural, layered and bright compositions that have
movements unique to each one. That was the hard part. I didn't realize how much creative
energy is involved with creating 20 individual pieces. And, the brush movements are so bold that
I literally hurt my neck painting them! lol I had to take a few days off after that, but they're
worth it. From there, I iron them to set all of the paint, had them sewn and photographed.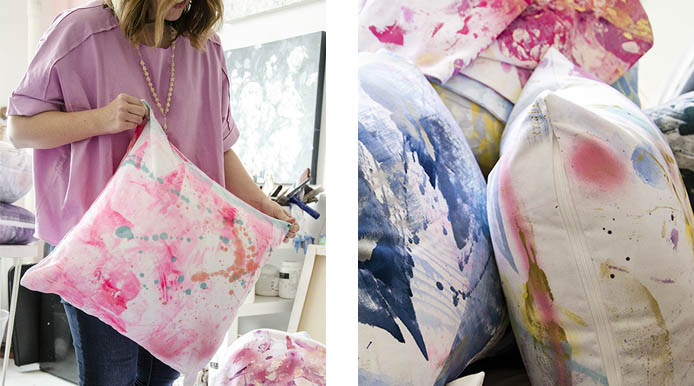 What are your biggest challenges?
Oh, time. It's always time. Because I run out of creative focus at some point in the day and have
been known to be a workaholic, I have burnt myself out a few times. So now I try not to work as
much and that limits the time I'm putting into everything. And along with that, I have to limit
what I work on. I have so many things that I would love to make but I think as an art business,
it's important not to be all over the place. People need to see the same thing a few times so that
they aren't confused about what I do, what my style is, and they remember me when the
opportunity comes up. So I let myself get really into just a couple of ideas at a time. That way
I'm really happy with the final product when I show it as well.
If you had to choose a favourite collection what would it be and why?
The Neon Collection! I created this collection with Andrew Hibbs of Endeavour Neon, and we
still work together now on custom pieces. I think what I loved most about this collection was the
energy and feedback that we received when we showed everyone what we were making. It really
pumped me up! We threw a really fun and like cooool art launch party at this nondescript place
on Hastings Street, it had a secret bank vault where we played our artist videos, and a super edgy
aesthetic. So many people came to the show, and I just felt so supported and like so good that we
were creating such a fun environment and pieces that were being loved.
What's something about you that we may not know?
You know, there's probably a lot that you don't know! I try to keep my social media focused on
my art and art related things. There is one really exciting product collaboration coming out this
year that I haven't been able to share yet, so stay tuned for that. I will tell you though, it will be
very accessible to everyone and I'm really happy about that. On the personal side of secrets
though… ok this might be funny. When I'm working on my pretty, happy artwork I'm often
also listening to some creepy true crime podcasts. Doesn't really make sense but hey, it keeps me
focused! Other than that, you know, I just live a happy little life over in the westend with my
boyfriend by the beach. You can find me on foot around the city or on my newest splurge, a Vespa.